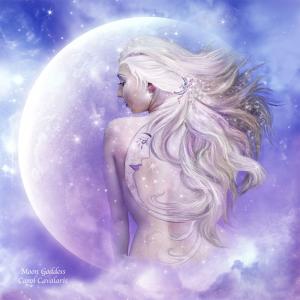 This fantasy artwork of a goddess in the glow of a big full moon, inspired the prose.

Moon Goddess art and prose by Carol Cavalaris.

Moon Goddess
Symbol of illumination
And rebirth
You reflect the mystery
And magic within ourselves
At night
You show us our shadow selves
In daylight
We see our conscious selves

With you
We go through the cycles of life
Experiencing our lunar phases
From the full bloom of youth
To the fading glow of old age
Through calmness and storms
And with each new moon rising
We are reborn.