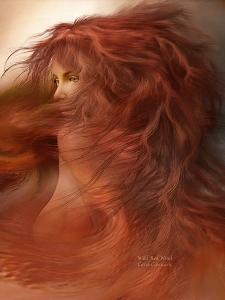 Painting of a beautiful woman with wild long red hair blowing in the wind inspired this prose.

Wild Red Wind, art and prose by Carol Cavalaris.

She blew into his cold dark world
Like a wild red wind
A fire on the wind
An unstoppable storm headed straight for his heart
Burning him up
Turning him to ash
Sucking away his oxygen
Until all he could do was
Kiss her
Too hard
Too fast
Too everything
And heaven help him
Fall into her firestorm.